The Brief
Greenpeace's Protect the Oceans team has been campaigning for 30% of the world's oceans to be protected by a network of ocean sanctuaries by 2030 for many years. A historic global ocean Treaty was agreed at the United Nations in March 2023, which provides a legal tool which can create these urgently needed sanctuaries. With only 7 years to go time is running out, Protect the Oceans needed a powerful film to motivate people to sign a petition to urge governments to ratify the treaty.
Rumpus and Greenpeace agreed that the most compelling way to tell the story was with beautiful characters, we set to work on working up the story.
How We Did It
Story development for this project involved a lot of research. We did lots of reading on the environmental threats Greenpeace needed us to show; super trawlers, deep sea mining and longline fishing. We wanted our characters to run a gauntlet of ocean threats on a journey to find the Sanctuary, a way of both exposing the devastation and what ratifying the Treaty now could achieve.
We were very chuffed to work with Writer Sam Morrison on this project, he developed our lead characters, Flying Fish and Eel, brilliantly. He wrote a story that takes us on a rollercoaster journey through the perils, with an added emotional twist!
We designed the characters with a beautiful illustrative feel and a folk art edge! We love the subtle details in the line work.
We worked up the ocean world with painted background designs full of depth. The atmosphere of the bleached coral 'forest' is a brilliant scene setter and the joyously colourful sanctuary is beautiful!
We were excited to work in hand drawn frame by frame animation for this project. This medium has allowed a natural flowiness to the fish's bodies and fins, smog and ocean life. We had loads of fun animating many grumpy and cute fish.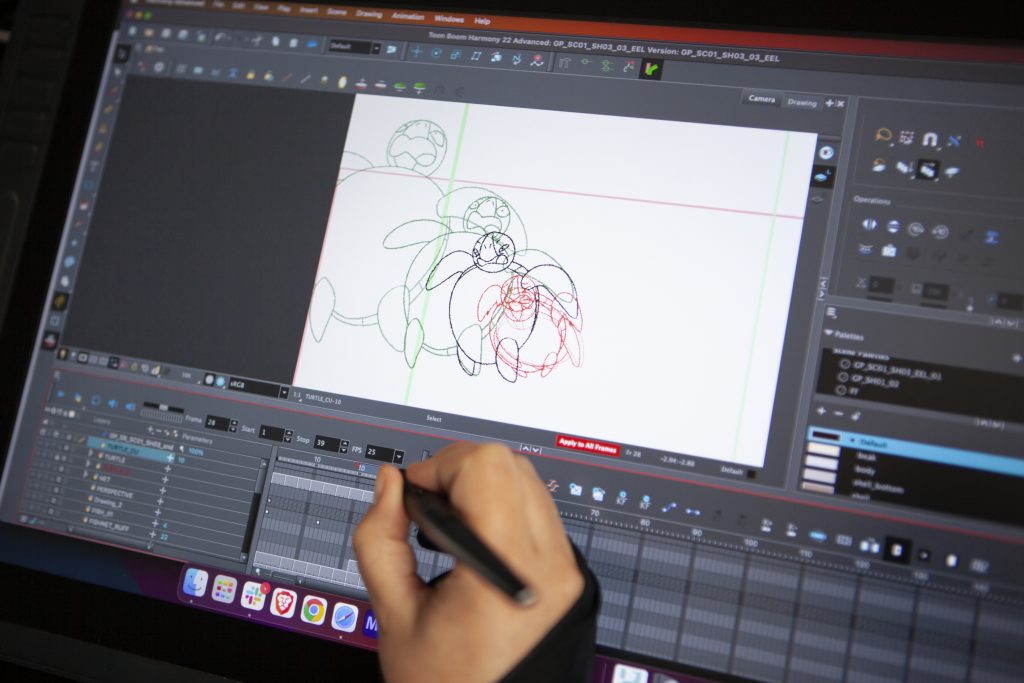 Our Animation Director Luke Hyde expertly ran the team, and himself produced the energetic oceans plastics shot; the panicked twists and turns of the Flying Fish in that bottle are flipping gorgeous!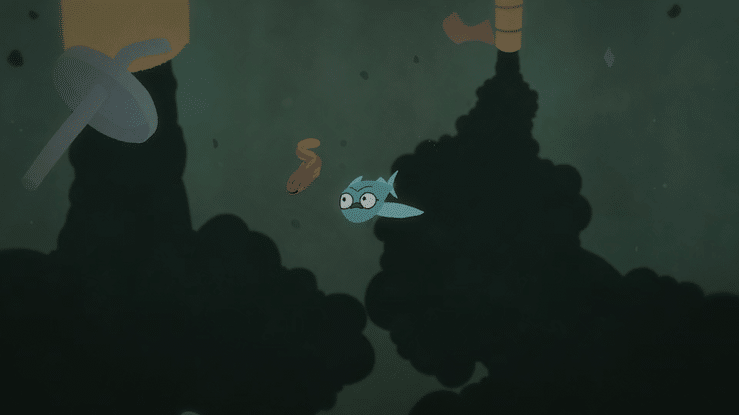 How Did We Do
This project has been a truly collaborative one, our most favourite way to work. We are excited to see the impact this film is going to have!
It looks incredible, such a beautiful short film which crams so much into a minute and a half. The celeb voices all work perfectly, the animations look stunning, the message at the end feels hard hitting and persuasive without preaching – an awesome creation that I am so excited to see out in the real world. Thanks so much and massive congratulations to all of you at Team Rumpus for creating such a beautiful film.

James Hanson, Head of Communications and Engagement, Protect the Oceans, Greenpeace UK
I am really proud of this project and very happy to have worked with Rumpus on it. Rumpus' team are not only hugely professional and highly skilled at their craft but also a lot of fun to work with!
As a Producer, when I work with creatives outside of Greenpeace, I want the process to be as collaborative as possible from both sides. Rumpus were always open to our ideas and needs as well as getting them into the storyline. It really felt like we were working together as a team.
The resulting animation is very emotive as well as being hugely effective at getting our message across, I am loving seeing this beautiful piece shared around the world!

Alex Yallop, Producer and Visual Lead, Protect the Oceans, Greenpeace UK
We were ambitious with our pitch and pushed our character driven ideas, because it's what we do best! We never expected the characters to be voiced by such huge actors, who brought lots of energy to their roles and were a joy to animate. Hand drawn animation is, for us, the best way to get the most expressive results and it's wonderful that we were recognised by such a high profile organisation. We're really proud of the message behind the animation and the twists and turns of the story.

Stef Bowskill, Creative Producer, Rumpus Animation
Duration: 12 weeks

Flying Fish: Jane Fonda
Eel: Camila Cabello
Whale: Simon Pegg

Writer: Sam Morrison
Animation Director: Luke Hyde
Designer: Ani Ouzeroual
Background Designer: Jake Harrison
Storyboard Artist: Gabriela Fial
Animators: Marta Dias and Duncan Gilbertson
Junior Animators/ Clean Up Artists: Luzie Ilgner and Annachiara Garganese
Sound Designer: Fearghas Hilton
Compositor: Jack Churchill

Creative Director: Joe Wood
Creative Producer: Stef Bowskill
Pre-Production Coordinator: Grace Harris

Greenpeace Producer: Alex Yallop